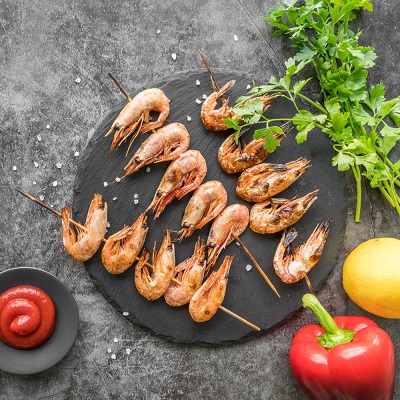 Hungry for variety? You've got spice in your cabinet, why not be bold with them? Jamaican jerk shrimp makes for a daring dinner alternative, and you can settle the spices with a dunk in tangy yogurt sauce that coats as it cools. Cucumber salad provides more contrast to round out this delicious, low-carb meal.
Ingredients
24 large shrimp, peeled and deveined
2 Tablespoons coconut oil
1 tsp. cloves
2 tsp. Jamaican allspice
2 Green onions
Juice of 1 lime
Salt to taste
Cayenne pepper to taste
Greek Yogurt Dressing
1 cup full-fat Greek yogurt
2 tbsp. olive oil
1/2 cup fresh parsley, chopped
Salt and pepper to taste
Directions
If using wooden skewers, immerse in water for at least 15 minutes prior to cooking. Mix up spices in a small bowl along with salt and cayenne pepper. Let shrimp and spices mingle for a bit in the refrigerator while you prepare salad and any other sides, and yogurt dressing. Remove shrimp from refrigerator and place on skewers.
Heat grill to about medium or 350 degrees. Brush grill lightly with coconut oil. Brush shrimp with coconut oil as well. Place shrimp on grill to cook for about 2 to 3 minutes on each side. Shrimp are cooked through when they turn pink and curl up.
Serves: 4