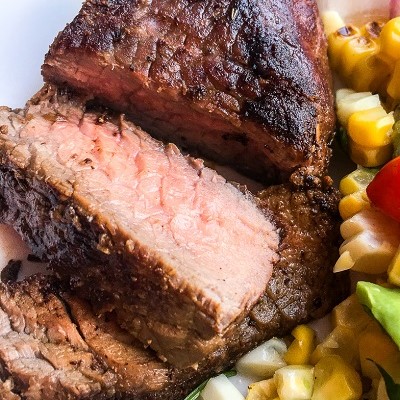 Here is a delicious steak recipe that doesn't require a lot of fuss. Just a few simple ingredients and less than 30 minutes are all it takes to grill up a flavor-packed main course your entire family will love!
Prep time: 5 minutes
Cook time: 15-20 minutes
Serves: 4
Note: The actual cooking time for this recipe will vary depending on the thickness of the meat, the starting internal temperature, and the desired level of doneness.
.
Ingredients
2 T. extra virgin olive oil
2 T. Dijon mustard
2 t. Italian seasoning
½ t. garlic powder
1½ lbs. sirloin steak
Sea salt and black pepper, to taste
Directions
In a small bowl, combine the mustard with the Italian seasoning and garlic powder. Generously coat the steak with the herbed mustard on all sides. Season with salt and black pepper, to taste.
Place on a medium hot grill and cook on one side for approximately 5-7 minutes. Turn steak and cook for another 3-5 minutes, or until steak reaches desired level of doneness.
Tip: Use an instant read thermometer to determine when the internal temperature is 5°F below the desired result. (The temperature will continue to rise while the meat rests).
Remove from heat and let rest for 5 minutes. To serve, slice the steak against the grain and serve with your choice of side dishes. Enjoy!
Temperature chart for beef: