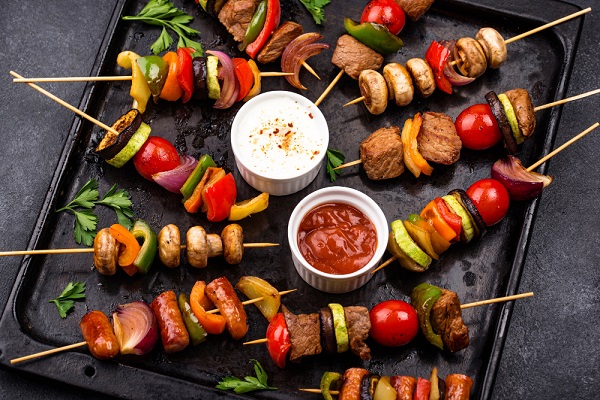 You know what's fun to have at a BBQ? Kabobs! Unfortunately, they are often a little on the unhealthier side, but they don't have to be. Here are some different options for making healthier kabobs on bamboo skewers so you get all the fun, without all the extra calories and carbs.
Italian Sandwich Skewers
This is one of those fun kabob ideas where you take a food, deconstruct it, and throw it on a stick. It is great for the kids, plus anything on skewers becomes portable and a lot more convenient. You can walk around while eating without worrying about trying to carry a plate and utensils with you.
For this type of skewer, think of your favorite Italian sandwich and what is inside. You can also include bread pieces, but it definitely isn't required. Instead, add some Italian meats like peperoni and salami, chunks of provolone cheese, and veggies like cherry tomatoes, bell peppers, and onions.
Fruit Skewers
There is nothing easier than making skewers with fruit. Grab all your favorite summer fruits, chop them into chunks, and add to your barbecue skewers. You can even put these on the grill for a few minutes, but that isn't required. Good fruits include grapes, pineapple, mango, watermelon, honeydew, and many others. You can also do a fruit and vegetable combo skewer if you prefer.
Teriyaki Chicken and Veggies
For more of a full meal on the kabob, this is a fun idea. Make some grilled chicken that is marinated in teriyaki sauce first. Then take some grilled veggies and chop them into bite-size pieces. Add the cut-up pieces of chicken with the veggies on the skewers along with some chunks of pineapple, and you have yourself an Asian-inspired kabob all ready for the barbecue. Plus, this can be made really healthy depending on the type of teriyaki sauce you are using.
Tortellini Pasta Salad
This is another way you can use the idea of kabobs with actual meals. It is also super simple and easy to customize with whatever you like in your pasta salad. You first want to cook the tortellini pasta, then wait for it to cool a bit. You can add those to the skewer with ingredients you put in your pasta salad, like cherry or grape tomatoes, bell peppers, onions, and anything else that you enjoy. Some people also use black or green olives, which are easy to place on top of skewers.