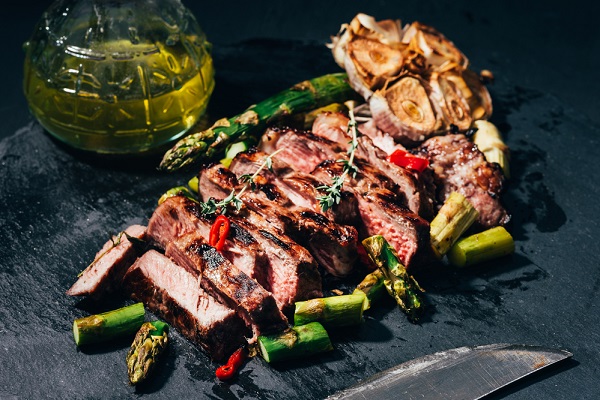 Savor the flavors of summer with this sumptuous pork loin seasoned with garlic and herbs, and topped with a fresh and tangy lemon dressing. With a generous helping of fresh grilled asparagus, you won't miss those simple carbs one bit!
Ingredients
One pork loin, log-shaped, about 2-3 lbs.
3-4 cloves garlic
Juice of one fresh lemon
2 Tablespoons rosemary, fresh or dried
2 Tablespoons sage, fresh or dried
½ cup olive oil
Salt and pepper to taste
Directions
To start, prepare the lemon olive oil dressing. If using fresh or home dried rosemary and sage, chop roughly and then crush using a mortar and pestle to bring out the oils. Combine with olive oil, lemon juice, salt and pepper. Mix well and set aside.
Preheat gas grill to medium-high heat to start. While grill is heating up, prepare meat. Cut slits into the roast using a small knife. Slice the garlic pieces long ways. Insert each garlic slice into the slits that you made in the pork. Season meat with salt and pepper. Drizzle a small amount of olive oil over the meat and coat evenly by rubbing it in with your hands.
Once grill is piping hot, lower the temperature to about medium or 350 degrees. Spray grill using nonstick cooking spray. Place pork loin on grill with lid open. Let pork cook for about 20 minutes, then flip the roast to the other side and continue cooking for 10 more minutes. When pork roast reaches 160 degrees F, remove from heat and cover with tin foil. Let rest for 10 minutes before slicing.