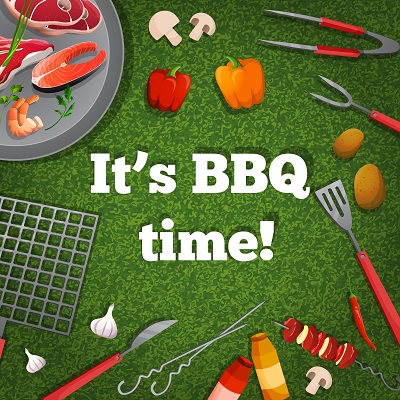 It's summer and it's time for barbecue! The Weber Portable Gas Grill is exactly what you need to bring real barbecue flavor to your favorite meats, poultry, fish, and even vegetables.
Foods grilled over a flame taste great and really add to your summer outdoor festivities.
If you love to grill, but want something that is compact and portable, the Weber Portable Gas Grill is perfect for the back yard, patio, or for taking to the beach or park.
Forget about charcoal, go for gas and grill juicy burgers on a small, but powerful grill that cooks quickly and evenly.
Your family get-togethers and afternoons spent at the park will be even more fun with the taste of delicious barbecued foods!
Weber is the best name in grills, and even though the portable Q-1000 gas grill is small, it's mighty. Powered by propane, the 8,500 BTU burner, made from tubular stainless steel, does a great job of evenly heating a sizable cooking area of 189 square inches. It's the ultimate in portable grills with lid-open dimensions of 16" by 27" by 23 and one half inches.
If you're looking for something sturdy and durable, no worries! This grill is sturdy. The body and lid are made from strong cast aluminum, and the frame is glass-reinforced nylon.
Ignition is easy with a push of a button, and regulating heat is a snap with an adjustable burner valve. Your grilling experience will be perfect thanks to the porcelain-enameled cast iron grates, and drip ducts that channel meat drippings away, reducing flame-ups.
Use a 14.1 or 16.4-ounce propane tank to get the party started, and check out the recipe book that comes with the Weber Portable Gas Grill for some great barbecue ideas that your family and guests will rave about for days afterward.
And don't forget about the five-year limited warranty, which truly shows that Weber is confident that you'll be using and loving your Q 1000 gas grill for a very long time.
The days are getting longer. People are spending more and more time outdoors each day. Camping trips and days at the beach beckon. Don't miss out on the fun and convenience of this small, portable, and very capable gas grill!
Pick up the Weber Portable Gas Grill today and make plans to invite your favorite friends over for a cookout this weekend. In fact, why not plan to make regular weekend cookouts at your home a summer tradition? Dust off the picnic table and dig out your best potato salad recipe.
Tasty burgers, steaks, chops, fish and grilled veggies are the order of the day when you get out your Weber Q 1000 Gas Grill and get cooking! It's summertime and time for grilling on your Weber Portable Gas Grill.