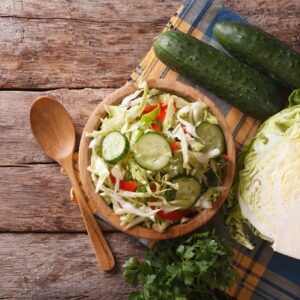 Your burger's next-bestie, this summertime slaw skips the mayo in favor of healthy olive oil and tangy apple cider vinegar to help those saturated fats break down faster. This is a terrific choice to keep stocked in the fridge for a taco topping or sandwich side for the people in your home who haven't gone low carb just yet!
Ingredients
1/2 a head of green cabbage, shredded
1/2 an onion, grated
1/4 bell pepper, cut into small slivers
1 cucumber, peeled and sliced
1/2 cup chopped fresh cilantro
1/2 cup olive oil
1/2 cup apple cider vinegar
Juice of one lime
Salt and pepper to taste
Directions
Combine prepared vegetables in a large mixing bowl. Toss thoroughly. Mix up dressing with salt and pepper. Squeeze lime into dressing and mix again. Pour over salad ingredients and toss a second time.