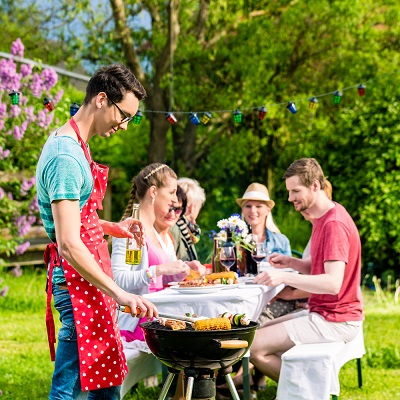 Pasta salad makes a tasty, tangy, fill-me-up side dish to accompany any meat, fish or protein that may be coming off the grill. Use frozen veggies for fastest food prep. Perfect solution when you need a last-minute idea for what to take to your next cookout. Budget-friendly, easy to make, and holds up well against the summer heat.
Ingredients
2 boxes rotini pasta
1 large bag frozen broccoli florets, or spinach (about 4 cups)
4 cloves garlic, minced
1 cup olive oil
1 cup grated Parmesan or Romano cheese
1 pinch salt
1 pinch black pepper
Fresh herbs (parsley, basil) – optional
Garlic powder to taste
To Make
Fill a large pot with water and bring to a boil. Add rotini pasta. When the pasta is halfway cooked, add frozen broccoli. (If broccoli florets are too big, use kitchen shears to cut them into bite-sized pieces.) Continue boiling, keeping an eye on the pasta/broccoli as it cooks, and stirring frequently. Watch the broccoli carefully as it cooks. If you prefer your broccoli on the crisp side, use a slotted spoon or tongs to scoop out each broccoli floret and place in a large mixing bowl to cool.
When pasta is finished cooking (about 6 min, or other depending on the type of pasta you use – check the directions on the box), drain using a strainer or even just the pot lid as you pour the cooking water down the sink.
Add the cooked pasta and broccoli to the big mixing bowl.
In the same pot that you cooked the pasta in, pour olive oil and add the minced garlic. Heat to medium and fry the garlic until you get the aroma, stirring frequently.
Once your sautéed garlic is cooked, pour it over the pasta, making sure to use a rubber spatula to scrape out every last bit of goodness.
Add salt, pepper, garlic powder and grated cheese. If planning to add fresh herbs, place the washed herbs in a small bowl and use kitchen shears to chop them up finely. Add to your pasta dish and toss.
When cool, place in a large container with tight-fitting lid. Chill in refrigerator until ready to leave for your party!