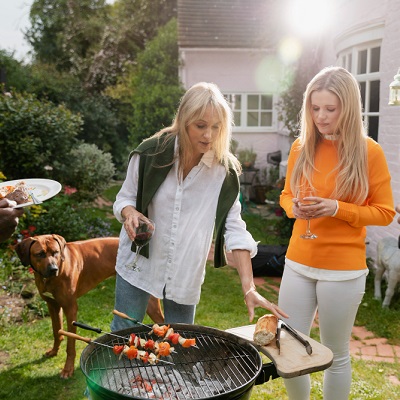 Prep time: 15 minutes
Cook time: 10 minutes
Serves: 6
Ingredients
1½ lbs. top sirloin, cut into 1-inch cubes
2-3 garlic cloves, minced
2 T. extra virgin olive oil
2 T. fresh lemon juice
1 t. ground cumin
½ t. paprika
1 t. ground cinnamon
Sea salt and black pepper, to taste
1 large eggplant, cut into 1-inch chunks
2 c. cherry tomatoes, halved
2 medium red bell peppers, roughly chopped
1 medium red onion, roughly chopped
4 c. arugula, washed and dried
Directions
Place the beef in a large bowl and add in the garlic, olive oil, lemon juice, cumin, paprika, and cinnamon. Season with salt and black pepper, to taste, and mix until all ingredients are combined. Let the beef marinate for 5-10 minutes.
While the beef is marinating, prep all the veggies and spray the grills of a gas grill with non-stick cooking spray. Pre-heat grill to medium-high heat and close lid. (You can also use a grill pan over medium-high heat or roast the kabobs in the oven under the broiler).
Thread the meat and veggie chunks onto metal skewers and place over direct heat on pre-heated grill. Brush the veggies with the leftover beef marinade while cooking.
Grill the kabobs for 5-6 minutes on each side or until the veggies are charred and the meat is seared and cooked through.
Remove from heat and serve immediately on a bed of fresh arugula. Enjoy!