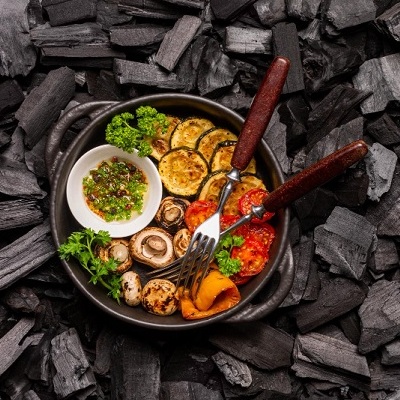 There's nothing like grilled fresh vegetables, lightly charred on the outside, soft, fresh and tender on the inside. A drizzle of healthy oil, splash of tangy vinegar and a sprinkle of herbs enhance the earthy flavor of eggplants, mushrooms and peppers.
Ingredients
1 eggplant, sliced long ways
2 bell peppers, halved
1 package of mushrooms, left whole, or halved if very large
2 tbsp. olive oil
1 tbsp. red wine vinegar
1/4 cup fresh parsley
1/4 cup fresh basil
Salt and pepper to taste
Directions
Heat the grill to about medium, 350 degrees. Prepare vegetables for grilling by washing thoroughly and cutting into larger, thin pieces. Wipe the mushrooms clean with a damp paper towel and trim off bruised sections. Pat try and slice the larger ones in half longways. Wash and roughly chop the herbs, then combine with vinegar and oil in a small bowl. Season with salt and pepper.
When grill is heated, brush with olive oil. Also brush the veggie slices with olive oil. Lay each piece flat on the hot grill. Leave the lid open and allow the vegetables to grill for 3 or 4 minutes on each side. Use a spatula to gently move them to prevent sticking. Turn each eggplant or pepper slice over and continue to cook on the opposite side until desired tenderness is achieved.
Remove grilled vegetables from the grill and place in a bowl. Pour herbed oil and vinegar mixture over the vegetables and toss. You can also use kitchen shears to cut up the grilled vegetables to bite-sized pieces if you like.