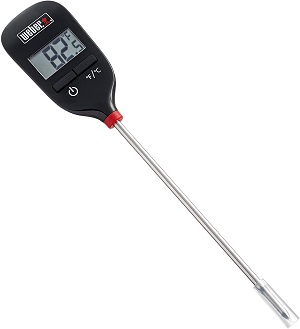 Gauge your steak's doneness without cutting into your precious piece of meat. The Instant-Read Thermometer provides a fast, accurate digital temperature readout. Whether you prefer rare or well-done, don't leave it up to chance.

Product Features
Digital display

Fast, accurate reading

Reading in Fahrenheit or Celsius

The temperature range: 32 degrees Fahrenheit to 446 degrees Fahrenheit

Wipe with a clean, dry cloth for prolonged use
Most customers really appreciate this instant read thermometer. Here's what they say:
"I keep buying quick read thermometers but this is the only one I trust."
"I grill a lot and this is a must! "
"From the doneness of the meat, I would say that the temperature reading is accurate."
.