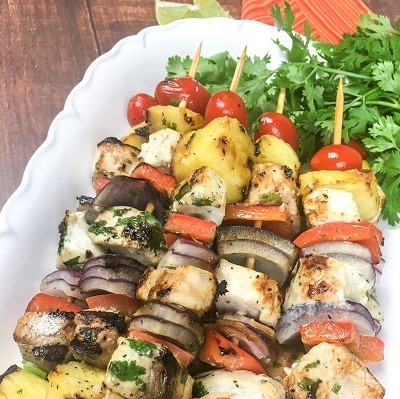 Tip: Soak the wooden skewers in a bowl of water for at least 30 minutes to overnight.
Prep time: 20 minutes (+ time to marinate)
Cook time: 20-25 minutes
Serves: 4
Ingredients
8 large wooden skewers
16 oz. swordfish, cut into 1-inch cubes
16 oz. fresh pineapple, cut into 1-inch cubes
1 medium red onion, cut into 1-inch chunks
1 large red bell pepper, cut into 1-inch pieces
2 T. extra virgin olive oil
1 t. lime zest, preferably organic
¼ fresh cilantro leaves, chopped
2 t. garlic powder
Sea salt and black pepper, to taste
Non-stick cooking spray (or butter, olive oil, or coconut oil)
2 large limes, cut into wedges
Directions
Place the swordfish, pineapple chunks, red onion, and red bell pepper in a large glass or other non-reactive bowl.
Add the olive oil, lime zest, fresh cilantro, and garlic powder and season with salt and black pepper, to taste. Gently toss to combine. Set aside to marinate for 15-20 minutes, stirring once or twice during that time.
Heat the grill to a medium heat.
Thread the swordfish and veggies alternatively onto skewers. Working in batches if necessary, place on the medium hot grill. Cook until the veggies are slightly charred and crisp-tender, and the fish is flakey, approximately 2-3 minutes per side.
Remove from heat and serve immediately. Enjoy!