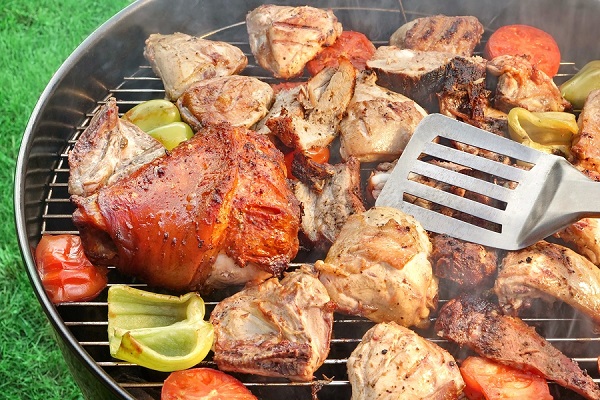 Welcome to summer! If you want to spend your days enjoying the great outdoors while you grill up some delicious meals, you'll need to plan ahead. Not every meat at your local supermarket is grill ready. Educate yourself on the best meats to grill in order to have best outcome for you cookout and to avoid having a disappointing meal.
Tender Juicy Beef
The pick of choice for most grillers is beef the great cuts available at your local store give you plenty of options, and if you're in a hurry, just a little salt and pepper is all you need to season up a great meal with your friendly red meat.
Everyone's favorite beef grill is hamburgers, when you choose a grind go for quality meat like ground sirloin and choose a fat percentage that is below 93%. You can choose lean, but you'll need to add an egg or another binder to keep the burger together on the grill.
The king of steaks is the T-bone, but I recommend a nice sirloin. When grilled properly, a sirloin can produce a delicious steak, and you'll get more for your money letting everyone dig in.
Succulent Pork
Everyone's grill favorite still tops the rest. Amazing pork ribs will satisfy the pickiest of crowds. Choose from baby back ribs to spare ribs, just remember to always keep more on hand. A hungry crowd will surely eat as many as you can offer.
Don't shy from pork for straight up grilling. Traditionally thought of a tough and dry when you grill tenderloins you'll get great juicy meat that's a perfect compliment to a hot day. If you're worried about overcooking your meat, let them soak in a marinade the day before and then smoke them slowly for the best flavor.
If you are looking for more portable choices than ribs and tenderloins look for bratwurst or sausage to grill up in place of hot dogs. Your guests and your mouth will thank you.
Tasty Chicken
While I'm not a fan of grilled chicken tenderloins (they always come out dry) whole chickens on the grill will be a delight for your guests who have a preference for white meat. Use a stand from your local store to grill the chicken standing up, and keep it moist with seasonings and marinade throughout the grill.
If you're planning on grilling chicken breasts leave the skin on to retain the moisture they'll lose from the high heat. Don't over cook them either, they need only 10-12 minutes till done, test with a thermometer to make sure you don't overcook.
Grilling this summer is going to be a joy, by selecting the right meats for the right job and keeping lots of variety on hand you can be sure that every backyard party is going to be a hit. Choose high quality meats and make sure to have dips and sauces on the table, they'll be appreciated when everyone starts to dig in.