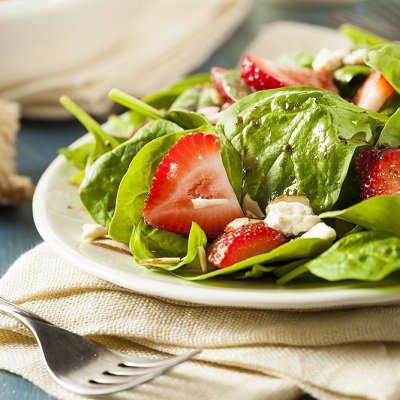 Caribbean foods typically include fruit such as pineapple or banana, both of which grow to abundance in tropical climates. Since low-carb diets don't permit fruits that are high in sugar, berries are your best option for something fruity to accompany this spicy and savory meal. Strawberries are lovely placed on the grill for just a few moments.
Ingredients
1 pint strawberries, cleaned and hulled
Small tub of baby spinach
3 Tablespoons Balsamic vinegar
3 Tablespoons sesame oil
2 Tablespoons sesame seeds, toasted
1/2 sweet onion, sliced
Splash of soy sauce
Splash of Worchestershire
Directions
If using wooden skewers, soak in water for about 15 minutes. Toast sesame seeds in a small frying pan on the stove top, or on a tray in the toaster oven. Set aside.
Place freshly washed spinach leaves in a large bowl along with the onion slices. In a small jar or measuring cup, stir together soy sauce, Balsamic vinegar, sesame oil, Worchestershire sauce, and soy sauce. Set aside.
Heat grill to medium, about 350 degrees. Place the cleaned and hulled, whole strawberries on the skewers. Brush berries with a bit of the Balsamic dressing. Pour the remaining dressing over the baby spinach and onion mixture and toss lightly. Place strawberries on grill for about 2 minutes on each side or until charred to your liking.
Remove berries from grill. Add to salad greens and sprinkle with the toasted sesame seeds.
Serves: 4