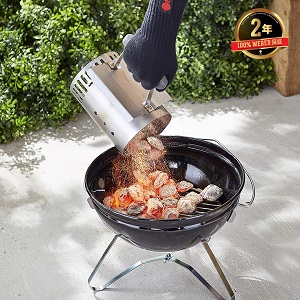 Weber's chimney starter makes starting your charcoal a snap. It also cuts down the amount of time it takes for the coals to get ready.
Just load up our extra large cannister full of coals, light up a fire starter or crinkled up newspaper, and set the cannister over the flame. In a matter of minutes the coals will be red hot. Who ever thought it could be so easy?

Product Features
Lights coals in under 15 minutes. Dimensions : 8 H x 5.8 W x 10.4 D inches

Place with coals on Weber Lighter Cubes or crumpled newspaper and light

Compact design makes it ideal for smaller grills or shorter grilling sessions

Fits perfectly on Smokey Joe and Jumbo Joe charcoal grills

Individual Carton Dimensions 8 H x 5.8 W x 10.4 D (Inches)
.