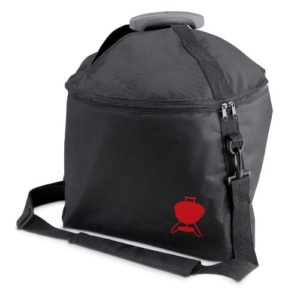 Pack your grill for easy transport and to protect it from the elements.
Durable storage bag comes with a padded, adjustable shoulder strap. Barbecue tool storage pouch to fit most 14-inch tongs and spatulas included.
Fits Smokey Joe Silver and Smokey Joe Gold charcoal grills.

Customers Say:
"…it is a life saver for the grill."
"This carrier kept the grill together and me / our vehicle clean when transporting it."
"This is just the HANDIEST thing to easily transport my little Smoky Joe grill from my upstairs to the outdoors to grill."
 "It is a bit difficult to get the grill in the bag and get it zipped up appropriately…."
"This is NOT the right size for the bigger smoky joe… very disappointed."
.