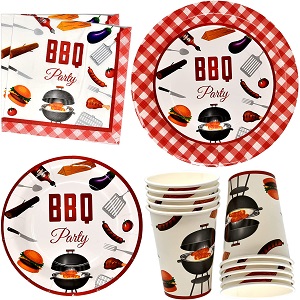 This colorful BBQ Picnic Party Set Serves 24 and includes 24 9" dinner plates featuring BBQ Party (with a grill cooking steaks, hot dogs, chicken, vegetables, cutlery, utensils and wood with a red and white checkered plaid gingham border) and 50 coordinating luncheon napkins. There's also 24 7" dessert plates (featuring the same designs and a red border) and 24 matching 9 oz. cups.

The plates are made of high quality thick paper and the napkins are soft and absorbent. Great for a summer cookout party celebration. Do NOT place the plates in the microwave. Cups are for cold drinks only.
The Red gingham designed party set really adds dimension to your parties as your guests will love the cute and bright design. It's perfect for baby showers, birthdays, summer holidays, park barbeques, country, camping, beach, pool grill, July 4, Memorial Day, Labor Day, family reunions, and all your outdoor backyard cookout celebrations!
Disposable paper reduces clean-up time so you can enjoy more time with friends and family at this burger barbecue themed party. After the party just collect the tablecloths with all the garbage and throw it into the trash can. Presto! Cleanup completed!
.