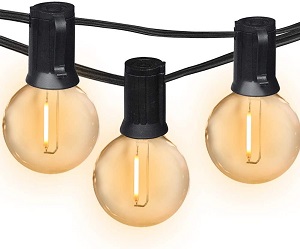 These waterproof globe string lights are the ideal outdoor lighting for your BBQ party! It's a 50ft long strand of durable lights with 25 sockets, 26 plastic bulbs (one spare bulb) with the E12 Edsion screw base.

Dress your decks, porches and patios, backyard, terrace, gazebo, or contemporary cabana with this Edison bulb string lights. Professional planners request this outdoor lighting for parties, reunions, anniversaries, weddings, and holiday celebrations.
The 2700K soft warm patio string lights will create a relaxing and cozy atmosphere for your gathering. You also can adjust the brightness with a compatible outdoor lights string dimmer. (The dimmer is not included. These quality outdoor patio lights string are energy saving & durable with strong rubber construction throughout the molded sockets & integrated hanging loops, ETL approved.
With fully sealed and self-gasketed sockets, Banord globe string lights are sure to stay under the sun, rain, even in the worst weather conditions. The bulbs are made of plastic. It will not Be easily broken when dropping off or blown away by the wind, which will protect your family and friends away from dangerous shards.
This product receives high customer reviews, however, one said that the light bulbs were a bit smaller than expected.
.