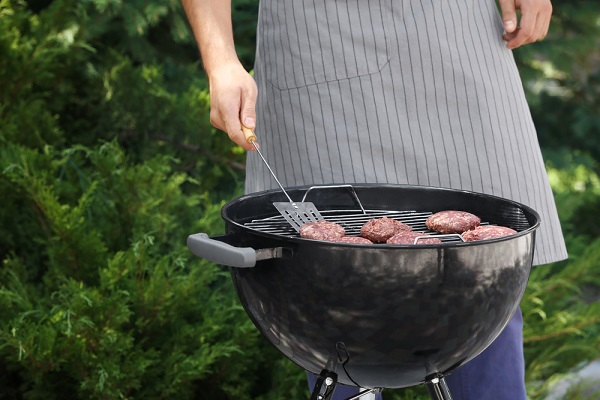 Lovers of spicy food will appreciate this kicked-up rendition of burgers on the grill, served sans bun but with the full works of summer-time accompaniments including avocado and alfalfa sprouts for some California freshness and flair. Continue reading →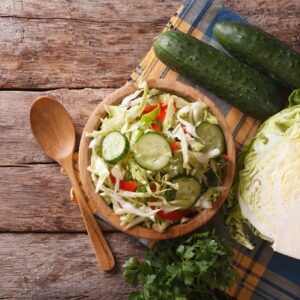 Your burger's next-bestie, this summertime slaw skips the mayo in favor of healthy olive oil and tangy apple cider vinegar to help those saturated fats break down faster. This is a terrific choice to keep stocked in the fridge for a taco topping or sandwich side for the people in your home who haven't gone low carb just yet!
Ingredients
1/2 a head of green cabbage, shredded
1/2 an onion, grated
1/4 bell pepper, cut into small slivers
1 cucumber, peeled and sliced
1/2 cup chopped fresh cilantro
1/2 cup olive oil
1/2 cup apple cider vinegar
Juice of one lime
Salt and pepper to taste Continue reading →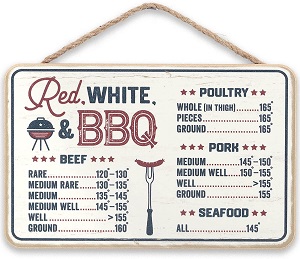 Give yourself some independence on big BBQ days with this helpful wall art. Featuring various meats and the temperature in which they are safe to eat, this beneficial chart gives you the freedom to relax knowing that your meat is cooked properly.

This fun vintage sign features various meat temperatures and helpful cooking tips, this sign is both functional and designed to fit into any retro-themed home. Hang this helpful Open Road Brands official product in the kitchen, dining room, or grill area.
This functional wall décor is made with MDF wood and includes a rope for display purposes. Made in the USA. Size: 8.25″ W X 5.25″ H X 0.25″ D